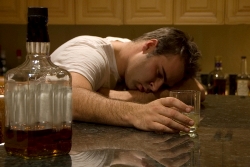 Melbourne Alcohol Hypnotherapy
For the past 20 years, hypnotherapist Dr Bruce Alexander, has been successfully treating men and women for alcohol addiction using clinical hypnotherapy.
Alcohol doesn't only poison the body it also poisons self-esteem and self-identity. Client and therapist work together to establish realistic and achievable goals. These goals are built upon, over a period of time, until the final goal is eventually achieved. In this way self-esteem is boosted rather than degraded by setting unrealistic goals.
This final goal may be complete withdrawal from alcohol but for many, it is simply a goal to cut back on consumption. This is usually not an option for severe alcoholism but for those with moderate alcohol problems cutting back is very achievable. The following is a typical example:
Bills level of drinking increased from a couple of glasses on the weekend to a couple of glasses every night. His problem began three years ago with increased work stress caused by a promotion. He began drinking alcohol every day as a means of coping with stress. Recently things have settled down at work but his drinking habit has persisted. Recently Bill tried to get back into his old 'weekend only' habit but found he was unable to resist the temptation of driving into the bottle shop on the way home from work.
How Can Hypnotherapy Help Bill?
At this stage Bill is probably asking himself  how he can stop drinking so much alcohol and what might be some of the ways to quitting drinking. He might have heard about Alcoholics Anonymous and other twelve step programs but feels very reluctant to participate in group therapy sessions. Hypnotherapy offers a private ,confidential and very positive approach to reducing his alcohol consumption.
In Bill's case it may be appropriate to begin with one alcohol free day in the first week and gradually extend this to five days over a period of time. It may be necessary to find new ways of dealing with stress. Perhaps Bill gets two nights to himself midweek, away from his wife and the kids, to play basketball or go to the gym on his way home from work. Weigh loss is often a positive and unintended side-effect of this alcohol reduction program.
During the program hypnotic procedures are employed to reduce the desire to drink. Clients are encouraged to see it as a poison which should only be consumed in moderation or maybe not at all. A clear focus is given on creating a healthier body, happier life, better relationships, and better ways of managing stress. On the journey stumbling blocks can arise but often hypnotherapy is a good technique for resolving these issues.
"Many clients have said to me that this program was more successful than their visits to Alcoholics Anonymous and other stop drinking programs because they felt hypnotherapy boosted their self-esteem, whereas sitting in group therapy sessions made them feel like a loser".
Australian residents can book private consultations by selecting 'BOOK A PRIVATE CONSULTATION' from the menu.
Testimonial: Hypnotherapy Smoking and Alcohol
Testimonial: Hypnosis Alcohol, Smoking and Weight